Adele Alston and Stephen James have been experimenting with collaborative learning and getting students to think from the moment they enter the room.
In an EPD lesson, Adele greeted students and warned them that they will need to focus carefully on what they were about to be shown. Five pictures were then displayed (one at a time) on the board and the final slide gave the simple instruction to ˜Write down today,s title". This may sound easy but it required students to work in small groups to first recall the pictures they had been shown, and then to discuss how the pictures may link together. Once the link had been discovered, students had to write down the most appropriate title for the lesson. Even if the students can't quite understand the link on their own, you are encouraging collaboration, skills of inference and engaging them from the second they walk through the door!
Have a go and see if you can guess the title of this EPD lesson from the pictures alone (note the unit being studied this term is Buddhism).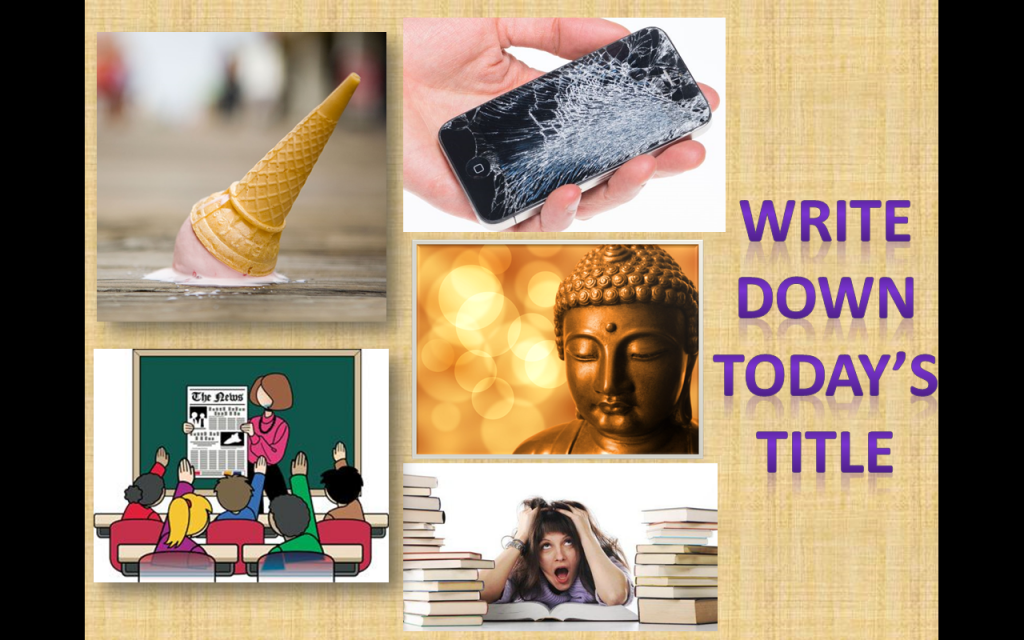 In an English lesson, students were greeted by Stephen and asked to form their usual groups. Students were then told that they would be participating in a silent debate/ discussion regarding techniques used in advertising. A very simple set of instructions was displayed on the board and groups immediately began scribbling away on the first advert they had been given to discuss. After 3 minutes, the adverts moved around the room and each group was exposed to a new advert and the comments made about this advert from the previous group. This time, students had to analyse the advert, read and reflect on the comments already made about the advert, agree or disagree with the comments and then add their own. What a