It used to be the buzzword in Education. AfL, Assessment for Learning…you'd hear it everywhere in school but it seems to have disappeared. Well here's a chance to remind yourself exactly what formative assessment entailed:
clarifying and understanding learning intentions and criteria for success
engineering effective classroom discussions, questions and tasks that elicit evidence of learning
providing feedback that moves learners forward
activating students as instructional resources for each other, and
activating students as owners of their own learning.
If you want to know more click on the images below for the PPD Presentation and AfL strategies that can be used in the classroom.

PPD Presentation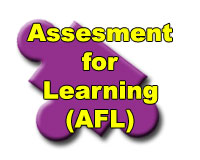 AfL Strategies