Welcome to Learning Labs 2018/9!
On 6th December, we have launched this term's first Learning Lab which involved 4 members of staff discussing theory and how it can be applied to our everyday teaching practice. We then had some time to consolidate the strategies centred on critical thinking, collaboration and modelling, and made tweaks to an existing scheme of learning which will be shared with our departments. The staff involved had some inspiring and thought-provoking discussions and sharing ideas with fellow professionals, whilst drinking uninterrupted cups of tea, was invaluable. To get away from the 100mph race, known as teaching, and have the time to reflect, discuss and implement Learning and Teaching strategies felt like a 'real luxury'- feedback from one member of staff who attended!
So what is the focus of Learning Labs this year?
The focus of this year's Learning Labs is to facilitate staff with the tools and time to embed Learning and Teaching into curriculum structure (schemes of work) and daily practice via pedagogy and strategies that require minimal planning and multiple reuse (SMART resources). This approach aims to support teachers and ensure students across the school get a consistent (in terms of quality not strategies) and fulfilling learning experience.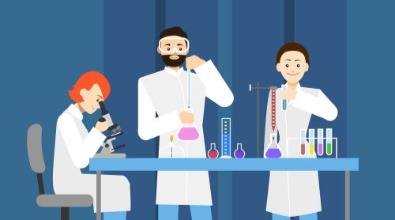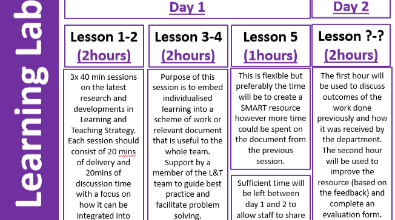 There is a chance for you to be involved in the next Learning Lab- please get in touch with either Dean Prodomo, Catherine Chalkly-Maber or Magda McGuinness if you are interested. Space are limited so please act fast!
Middle leaders have been briefed on the Learning Labs and have been considering the most appropriate way to utilise this time, so please feel free to chat with your department lead.